Introduction
Quite some time back, I wrote an article on Apple Hospitality REIT (NYSE:APLE). Back then, I noted the company's financial strength and consistent dividends. That being said, I ultimately came to the conclusion that I would be better off investing my money elsewhere.
With the company due to report its Q4 2022 and FY 2022 earnings next week, now is as good a time as any to take a look at the company to determine if the company is an attractive investment.
Business Model
As its name suggests, Apple Hospitality REIT is a REIT in the hospitality sector, with close to 29,000 rooms available in its 220 hotel portfolio. These hotels are focused on the select-service segment; this means the focus of the hotel is on the rooms itself and not the services/ facilities one would expect from a typical hotel. Doing so allows the company to reduce the costs associated with such services/ facilities. However, it would be a mistake to assume that these hotels are not operated under well-known brands, as virtually all of the hotels in the company's portfolio operate under the Marriott and Hilton brands, with a couple of hotels from Hyatt thrown in for good measure.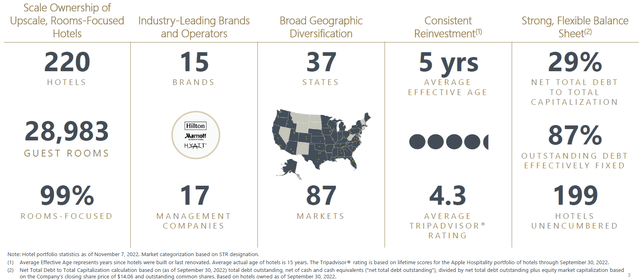 The company has also taken the conscious effort to diversify its portfolio geographically, with the largest market taking up only 6% of the company's earnings. With its hotels spread across 37 states, the company is able to reduce its dependence on a single area. The company also continually reinvests in its hotels, with its hotels being renovated every 5 years on average. This ensures the hotels will be able to continue to attract customers, maintaining its competitive advantage in the market.
Balance Sheet
In my previous article on the company, I noted the company's financial strength and how its strong balance sheet ensured it was well-placed to withstand any setbacks. The company's financial strength was put to the test during COVID-19, and the company passed with flying colours. Based on the Q3 2022 results, the company had approximately $1.3 billion of outstanding debt. While this might seem like a significant amount considering the company only has a total liquidity of $776 million (including its revolving credit facility), there are a couple of points to note.
First, not all of the debt is due immediately. Just $88 million is due this year and a further $106 million the following year. In fact, approximately $800 million is due only from 2027 onwards, giving the company significant runway to manage its debt position accordingly.

Next, the vast majority of its debt, $1.1 billion, comprises fixed-rate debt. This is especially important given the current economy, with interest rates expected to rise yet again in the next couple of years. All together, the weighted-average interest rate of the company's debt comes in at approximately 3.7%, certainly a decent number considering the Federal Reserve has raised interest rates beyond 4%.

With its strong balance sheet, the company has positioned itself to be able to not only withstand any adverse impacts such as COVID-19, but also profit from it. In spite of the pandemic, the company has continued to add to its portfolio of hotels.
Dividend
Dividends are perhaps the most important thing you would consider before purchasing a REIT; after all, it is the reason why you would consider a REIT instead of another stock. Let's face it, as a dividend stock, Apple Hospitality REIT was terrible over the past few years – it paid out $0.30/share in 2020 and just $0.04/share in 2021. Thankfully, that amount has picked up in 2022, with the company paying out $0.76/share for 2022. Of course, this is not the company's fault as management took the decision to accumulate cash by slashing its dividends with the hospitality sector being one of the worst, if not the worst, sector affected by COVID-19.
That aside, if you had managed to purchase the stock in 2020, you would be sitting on a substantial amount of capital gains, with the company's share prices having more than tripled from its low of around $5 to its current price of $17.
It is worth noting that the dividends paid out in the past couple of years are likely not indicative of the dividends the company expects to pay. To arrive at a reasonable figure, we need to cast our minds slightly further back. From 2016 to 2019, the company consistently paid out $0.10/share in dividends each month (or $1.20/share each year), with the dividends comfortably covered by its funds from operations. The latest monthly distribution by the company came in at $0.08/share.
Looking ahead to the release of the FY 2022 earnings next week, it is likely the company will report that 2022 was a strong year. Based on the Q3 2022 earnings, occupancy rates and other statistics were close to or even surpassing pre-pandemic (i.e. 2019) levels and there is no reason to suspect it would be any different in Q4 2022. Thankfully, it seems like the worst of the pandemic is behind the company. Accordingly, we should not be too far off from returning to a monthly dividend of $0.10/share.
Potential risks / Points of consideration
Everything I have listed above has been a positive for the company. Before jumping in head first though, there are a couple of points you may wish to consider.
First, in order to maintain its status as a REIT, the company is not permitted to operate any of its hotels. Instead, the company enters into management agreements with third-party managers to operate its hotels. This means the company is limited in its scope of influence over how its hotels are run; for example, the company is unable to set the prices for each room. From this alone, it is evident that the success of the company relies on the company having a discerning eye to be able to choose the appropriate third-party managers to run the hotels well.
Another point to consider is the company's dividends. One of the key reasons I opted against investing into the company a few years ago was because I felt that the company was reluctant to raise its dividends – despite growing each quarter, the company had maintained its monthly dividends at a constant $0.10/share for several years. Taking into account inflation, this actually meant that the value of the company's dividends was decreasing each year. While the company has been increasing its dividends in recent months, it should be noted that this is merely a return to its "original" pre-pandemic dividend.
One other point to consider is that of the company's share price. For reasons unknown to me, it seems like the company is not loved by investors. Although the company went public in 2015 at around $18, its share price has rarely exceeded this level. In fact, prior to COVID-19, the company's share price was gradually trending downwards. Of course, it has to be said that capital growth should not be a priority when investing in a REIT, but suffering a capital loss is not ideal as well.
Conclusion
The company has a geographically diversified portfolio of hotels, complemented with a strong branding. This has provided with a strong balance sheet, which has enabled to company to be able to perform in various economic cycles. This was most recently observed during the pandemic, when the company came out stronger than when it entered. However, I do have concerns over its share price and dividend. For a company which looks great on paper, it is incredible that it does not seem to find much love with investors. Additionally, I would like to see the company continuing increasing its dividends beyond its pre-pandemic level.
The company has stated that its primary business objective is to maximize shareholder value by achieving long-term growth in cash available for distributions to its shareholders. While its first part has been achieved with distinction, the company has yet to convince me on the latter. For me, the monthly dividend $0.10/share is a key level – if the company increases its dividend beyond that, I will be more confident that management is willing to distribute its cash to its investors. In the meantime, I will not be taking a bite out of this apple.