As always, such a release is not for general users but for developers, providing an early look at the next version of Android, for testing, development, and feedback.
Note that you will need to manually install a system image and download the Developer Preview SDK and tools – and it will only be supported on Google Pixel devices. Specifically, the Pixel 4a (5G), Pixel 5 and 5a, Pixel 6 and 6 Pro, Pixel 6a, Pixel 7 and 7 Pro
Certainly don't expect this on a range of commercially available phones for a long while, even after the final release. The target timeline for the software is below:

Android 14 features
Google says it aims to optimise the way apps work together, improve system health and battery life, and improve the end-user experience. As you would expect, developer productivity, strengthened privacy and security, enhanced performance, and more user customisation, is also mentioned.
There is also the question of tablets and foldable devices. Dave Burke, Google's VP of Engineering, writes:
"Android 14 builds on the work done in Android 12L and 13 to support tablets and foldable form factors. To help you build apps that adapt to different screen sizes, we've created window size classes, sliding pane layout, Activity embedding, and box with constraints and more, all supported in Jetpack Compose. With every release, our goal is to make it easier for you to optimize your app across all Android surfaces."
There will also be bigger fonts with non-linear scaling – users will be able to scale up their font to 200% (see below). Previously, the maximum font size scale on Pixel devices was 130%.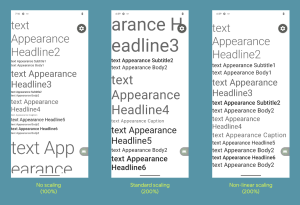 Where text gets too large, starting in Android 14, a non-linear font scaling curve is automatically applied (so text that is already large enough doesn't increase at the same rate as smaller text).
You can read more about plans for Android 14 at developer.android.com/about/versions/14
See also: Google rolls out Android 13