We use Slack as our workplace communication tool at Pinkbike and we have a #randoms channel that we use to share an assortment of videos and stories from all corners of the cycling world and beyond… We thought a couple of the moments from the past week were too good not to share with a wider audience, so here are some of the highlights.
---
Van Nicholas Releases $1100 Ti Balance Bike
Van Nicholas has joined the list of brands offering premium balance bikes as it launches the Ventus JR.
The Ventus JR weighs just 2,322 grams although this comes at a cost of $1109. Find out more here.
---
Blockchain Could Track Sustainability of Composites for Bike Frames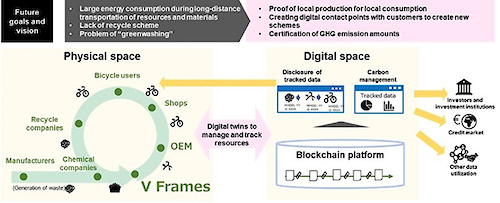 Fujitsu and Teijin have partnered with V Frames and Advanced Bikes in Germany to promote recycled materials and track emissions across the cycling industry using a blockchain platform.
The project aims to create "digital twins" of composite frames within a blockchain platform so that each frame's life can be tracked. The hope is that this will create a greater awareness of the value of recycled materials and the industries current handling of carbon fiber.
---
Designing a Mountain Bike in Fusion 360
---
Jack Moir's Swingarm Testing
---
Audi Nines 2022 FPV Course Flyby
---
Thibaut Daprela and Hugo Marini Raw Runs in Combes, France
---
Mastering the Slinky
---
Building a Laser Chainsaw
---
Crayons Vs. 150 Ton Hydraulic Press
---