If you're at all familiar with Garmin's wearables, you know that GPS-equipped running watches have always been the company's primary strength. Garmin's fitness watches have been a staple among athletes due to their features that aren't found on Fitbits and Apple Watches. The Forerunner series is still where the company introduces some of its most innovative tracking and training features.
The Forerunner 955 continues that tradition. It sits atop the Forerunner series as the most feature-packed watch in the bunch, and this year it gains some modern touches like a touchscreen and daily exercise readiness assessments (à la Fitbit's Daily Readiness feature, but free to users), while introducing new features not present on any other Garmin watch. That includes the higher-end Fenix series of watches, from which the Forerunner 955 is also starting to steal some cues, like solar-charging options and multi-band GPS.
We trained with the Forerunner 955 for a few weeks to see how its newest features improve on a platform we already love and to determine just how afraid Garmin should be about Apple or Fitbit catching up.
A new touchscreen, solar option, and multi-band GPS
Left to right: Forerunner 945, 955, and Garmin Fenix 7. The 955 is right in the middle in terms of size.


Corey Gaskin

Solar sensitivity gives outdoor adventurers an edge by slightly boosting battery life.


Corey Gaskin
The Forerunner 955 has a similar design to the 945 before it, but this is the first Forerunner to incorporate a touchscreen display you can disable manually or automatically during activities. It's also the first Forerunner to feature a solar charging option for a $100 premium, and it's the first with multi-band GPS support. Multi-band GPS provides more accurate location tracking that is more reliable in challenging environments. The feature was previously reserved for Garmin's highest-end trackers.
The 955's face grew a tenth of an inch, widening the display to 1.3 mm and allowing for a new digitized second hand going around the edges of the screen. The solar-charging version adds a neat reflective rim around the watch face where it soaks in sunlight for a bump in battery life. Altogether, this makes for a slightly bigger watch than its predecessor, but it doesn't bulge off your arm like Garmin's Fenix or Epix watches might.
Under the hood, we still have sensors for heart rate, blood oxygen monitoring, GPS, and 32GB of storage for music. The Forerunner is rated for 5ATM water resistance, and it can operate from -4º F to 140º F.
Same OS, new touch-based interactions
Garmin hasn't tweaked the aesthetics or mechanics of the OS much, instead focusing on refining and creating new tracking features. I don't have any qualms with the UI—they get the job done—but it was nice to see the introduction of interactive watch faces on the platform. It's not much, but the default face has a carousel of quick-view stats you can tap through that include VO₂ max, heart rate variability (HRV), training load, and activity minutes.
Garmin's inexperience with touchscreen interfaces is apparent on the Forerunner 955. It's not immediately intuitive what each icon is telling you, and it would be helpful if you could long-press each of them to see more information, much like how watch face complications on the Apple Watch work. Hopefully, this sort of touch-optimized interface expansion will come soon.
New Training Readiness scores and assessments
Garmin's strong suit continues to be its free, in-depth health metrics and training analysis. The company is leagues ahead of its competitors in providing training improvement features and sport-specific assessments (particularly running, but also cycling and swimming to slightly lesser extents).
With the 955, Garmin further refined these metrics for accuracy while adding two more mainstream features: Training Readiness and Morning Report. Training Readiness uses your sleep score history, heart rate variability, stress history (based on HRV), recovery time since your last activity, and Garmin's Acute Training Load feature to assess how ready you are to exercise every day.
Training Readiness gives you an assessment of your ability to take on exercise every day.


Corey Gaskin

Factors like sleep, heart rate variability (HRV), and acute training load combine to create your score. Annoyingly, you can't tap into these from this screen in the smartphone app. You must either find these metrics elsewhere in the app or on the watch itself.


Corey Gaskin

Unlike in the smartphone app, you can tap into your Training Readiness score on the watch to see further details and graphs for each factor.


Corey Gaskin
Assessing your body's recovery and readiness to take on stress (physically or mentally) is something that has gained steam in the wearables market over the past few years.
Garmin doesn't reinvent the wheel here; none of the metrics that go into creating this score are new to Garmin's suite. Your Training Readiness score, much like assessments from other trackers, is just a quick way to see how ready you are to work out. Garmin shows each factor's rating (sleep score, HRV status, etc.) in a list on the watch and in the companion smartphone app. This is the first time you'll be able to see discrete HRV data. Previously, that data was measured by Forerunner devices for the calculation of various proprietary metrics like its Body Battery, stress, and sleep assessments.
Perplexingly, Training Readiness gives you access to more data and context through the watch's eponymous interface than the smartphone app, and I'd much prefer that Garmin make it possible to tap into more context for each factor directly from the Training Readiness menu in-app, as it does on the watch.
Morning Report
Morning Report is a straightforward feature designed to give you an overview of your day. It pops up on the watch screen every morning after you wake up and stays there for about an hour before dismissing itself if you don't interact with it sooner. If you do click into it (via the watch's button), you'll get a brief rundown of your day, which can include your Training Readiness score, sleep assessment, a workout suggestion for the day, HRV status, weather, calendar events, body battery, intensity minutes, and steps.
The workout suggestions are running-based and vary in distance and time goals. Annoyingly, the Morning Report notification is the only place you can see that day's workout suggestion. Other bits of the Morning Report (weather, Training Readiness, etc.) are available elsewhere in the app and watch, but there's no way to recall workout suggestions on either.
Tried and true, deep, and specific training metrics
My favorite feature of Garmin watches continues to be their suite of training analytics. I've highlighted them in numerous buying guides and reviews as the feature that sets Garmin devices apart from any other fitness trackers, including the latest Apple Watches. This revamp only builds on that lead, even as the Apple Watch is set to gain advanced running dynamics for the first time, something Garmins have long had.
Training Status, Training Effect, Training Load Focus, and Acute Training Load are a few of the deeper metrics Garmin offers to show your overall training impacts and the effect of a specific workout on your training progress. They also show your balance of high aerobic, low aerobic, and anaerobic exercise for the past week and past four weeks. They're all impressively digestible and useful assessments.
If I've been training outside of my optimal weekly training load, I know how to augment my routine to avoid injury and let my body recover. If I'm trying to improve my cardiovascular endurance or my body's ability to expend maximum energy for short periods of time, Training Effect lets me know how each workout impacted either of these goals, while Training Status lets me see how consistent I've been and whether I'm still progressing or training at too high or low of an intensity. This kind of immediate, results-oriented feedback isn't just encouraging, it's addictive.
Training Effect is my favorite tool as a cardio fanatic concerned with improving all aspects of my cardiovascular performance, both for shorter and more intense or longer endurance sessions.


Corey Gaskin

This is in addition to all the typical metrics like heart rate, body temperature, and elevation.


Corey Gaskin

Training loads have also been tweaked to adjust more dynamically over time. In other words, a big run six days ago impacts your status less and less as days pass.


Corey Gaskin

As long as it doesn't say "detraining," I can hold on to my pride.


Corey Gaskin
The Forerunner 955 introduces refinements and additions to Training Status and Acute Load that improve accuracy by being more contextually aware. For instance, if you're using Garmin's Race Calendar feature, your ideal Acute Load will consider the goal of preparing for your specific race. Garmin also automatically creates a training plan to meet your goal time/distance for the race and suggests workouts each day to help you advance toward that goal. Acute Load scores have also been tweaked so that more recent workouts impact your training load more than less recent ones. In other words, a heavy training day six days ago will impact your current Acute Load score less than the same workout done yesterday. This gives users a better sense of the strain their bodies are under on a day-to-day and weekly basis.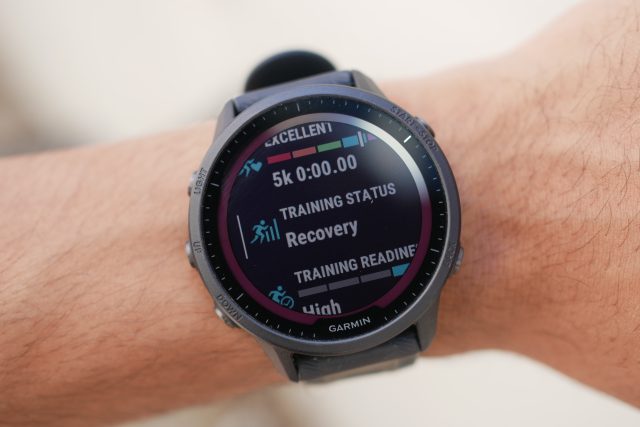 All these tools are useful, easy to comprehend, well-contextualized, and free, unlike the tools from some of Garmin's competitors. I've always valued Training Effect's insights and accuracy the most. It has consistently felt like a faithful representation of the work I put in, and it got me hooked on hitting different goals to impact my preferred area or focus or balance my training.
The Forerunner 955 did well with its measurements throughout multiple boxing and strength training sessions. The data was always within what I perceived to be an accurate range, given my efforts. Garmin uses your activity level, type of activity, age, height, weight, gender, and heart rate to estimate calorie burn during activities. It's a little tougher on calorie counts than an Apple Watch, but not by much, typically within 30 to 50 calories. The Apple Watch and Forerunner watches usually award more conservative calorie burn estimates than Fitbits.
The 955's sleep analysis showed improvement over previous Garmin watches in estimating fall-asleep and wake-up times (trending very close to results from the most accurate sleep tracker I've tested, the Google Nest Hub), but it still overestimated my awakenings (frequency and duration) throughout the night as every wrist-worn tracker I've tested has.
Real-time stamina assessments for runners and cyclists
I'm dealing with a knee injury, so I was unable to go for runs or bike rides with the new Forerunner. That means I couldn't test the new real-time stamina feature, but most of what goes into this assessment is a mixture of metrics Forerunners have long had, like lactate threshold and VO₂ max, distilled into real-time running data rather than an after-the-fact bit of info as previously presented. Having spent a lot of time running and biking with Forerunners, these are metrics I've used and relied upon extensively in the past to judge progress and plan routes. The only difference is that you can now see your pacing and cardiovascular limits in real time rather than in a graph after your exercise.
Real-time stamina is a new addition to the Forerunner series, specifically and exclusively on the 955 for the time being. It uses your VO₂ max and maximum heart rate to estimate what percentage of effort you've used (and conversely, how much you still have in the tank) while also projecting your pace at any given moment during a run or cycle. Other factors that can contribute to your real-time stamina are your lactate threshold/functional threshold power (FTP) and current intensity assessments.
Garmin's real-time stamina assessment as it appears on the watch.


Garmin

Real-time stamina uses data some Forerunners have always tracked. The 955 can estimate these (lactate threshold, function threshold power, and skiing power), but all of these metrics get significantly more accurate when using the 955 with an HRM Pro chest strap heart rate monitor.


Corey Gaskin
Lactate threshold and FTP are essentially the same type of metric; they both measure exertion. Lactate threshold is more commonly used for runners, while FTP is geared toward cyclists. Both estimate your muscle's time to fatigue under various intensities of exercise. These intensities are broken down into zones. For runners, there are typically five zones that delineate different percentages of your max heart rate. Cyclists using FTP usually have seven zones based on power output in watts. Watts don't mean much to most people, so devices like Peloton bikes, Garmin watches, and others simply communicate each zone as a measure of your heart's capacity, as it's directly tied to how much power you can put out.
Both Lactate Threshold and FTP are measurements that require additional accessories with the 955 (or any Garmin watch) to achieve the highest accuracy, or in the case of Lactate Threshold, work at all. For lactate threshold measurements, you'll need to pair Garmin's HRM-Pro chest-worn heart rate strap with the Forerunner to take assessments. That will also work to some degree for FTP analysis, too. But to get the most accurate FTP assessment, you'll need a foot pod accessory as well.
Thankfully, you don't need an HRM-Pro to get real-time stamina assessments, but it's still worth considering for runners and cyclists to enable better tracking. The HRM-Pro gets a more reliable heart rate measurement using electrodermal sensors than the optical sensors on wrist-worn watches.
The other big reasons to consider pairing your 955 with an HRM-Pro are advanced running and cycling dynamics. These are assessments and data that Garmin has long had on offer with the pairing of an HRM-Pro and compatible watch.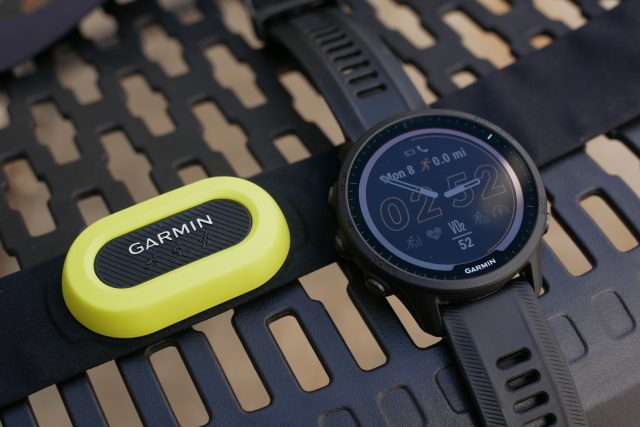 With an HRM-Pro, the Forerunner 955 provides advanced running dynamics that include vertical oscillation, vertical ratio, stride length, cadence, running power, ground contact time, and left-right contact time balance. Out of this lot, balance assessment and vertical ratio (which shows how efficient your strides are) are the two missing features from Apple's running metrics for Apple Watch. As are deeper metrics like lactate threshold/FTP, which simply don't exist on Apple Watches (or any other wearables).
Beyond that, cyclists get a small suite of cycling-specific advanced metrics that don't require an accessory. That includes "grit" (difficulty) and "flow" (maintaining speed) scores for mountain biking and a general assessment of your Functional Threshold Power. A more accurate reading requires an HRM-Pro and power meter pedal accessories like Garmin's Rally or Vector bike pedals.
Those can be a bit pricey, but they offer deeper cycling dynamics and mountain biking dynamics that add jump metrics to the data suite. With the pedals, cycling data grows to include left/right balance, pedaling power stroke analysis, and time spent seated or standing to gauge effectiveness, among other data.
If all that has your head spinning, just remember that the 955 also has some of the most foundational and useful tools for runners/cyclists, including preloaded topographical maps with riding/running courses and turn-by-turn navigation. They don't require cellular connectivity, and you can even set the course to avoid unpaved roads. The 955 is also the first Forerunner to throw in cross-country skiing trails and ski resort maps as well. Also new is a map manager to add and remove maps right from your wrist.
Picking where you want to go is simple with turn-by-turn guidance. You can choose anything from restaurants and points of interest in your area to transportation and nearby parks—all from the running activity screen on your wrist.
Garmin offers a handful of multi-week training plans for running and cycling.


Corey Gaskin

The app can also help you plan your race strategy for specific races.


Corey Gaskin
There are six preloaded cycling regimens to choose from. Some of the running and cycling programs give you a choice between two trainers and their training methods before opting into a program. These programs are aided by introductory videos from each trainer. But all programs start with a questionnaire to tailor the structure to your needs and allow you to see the full program regimen.
The Forerunner 955 is getting ever closer to the next-level adventure prowess of Garmin's Fenix watch line with a handful of added software features and hardware integrations like multi-band GPS and solar charging. Among the software additions are the Up Ahead feature, which shows upcoming landmarks along your route, and Garmin SkiView, which provides resort and slope names.
Additionally, Garmin claims solar charging can add up to five days of battery life to "smartwatch" mode (connected to your phone for notifications and measuring heart rate, but blood oxygen monitoring is switched off, and with no activity tracking sessions). That's up to 20 days versus Garmin's 15-day estimate without it. The estimate implies moderately sunny conditions (it can be overcast) with the watch uncovered and worn outside for three hours a day.
Battery life
Garmin's battery life ratings for the 955 range all the way from eight and half hours to 110 days to drain, all thanks to different power modes. In my usage, I got about eight days of battery with blood oxygen monitoring being measured only during sleep and about 10 total hours of strength training tracking. That means GPS wasn't gathering data as it would for a run or cycle, a potentially bigger battery drainer. With all-day blood oxygen monitoring enabled (something most people only need for sleep tracking), I only got about two days of battery in the same mode.
Again, you don't get as many power modes on the 955 as on the Fenix and other more expensive Garmin watches, but it's pretty close. A customizable low-power mode lets you choose which essential functions to keep on when conserving the battery in this way. That could mean leaving on the pulse oximeter (blood oxygen monitor) while turning off the watch's backlight and disconnecting it from your phone. Configuration is as simple as ticking boxes, and each option shows roughly how much battery you can save by disabling it. By Garmin's estimates, shutting off a given setting can usually provide anywhere from 20 to 40 more hours of battery life.
Recharging the 955 took just under 90 minutes to go from zero to 100 percent.
Garmin still makes the best tools for athletes
The Garmin 955 costs $600, but that's still a bargain due to everything it offers. The growing and improving suite of training metrics alone are invaluable to athletes. No other activity-tracking company comes close to this level of wide-ranging, detailed, and contextualized data, and no one presents data so accessibly. Even a niche tracker like the Whoop Strap 4.0, which attempts to assess and prescribe "strain" (exercise/exercise intensity), doesn't get s granular when explaining what area of your fitness you're impacting. By contrast, Oura's Gen 3 Ring tracker does an impressive job of making data and trends accessible and easy to digest in-app, but it's even lighter on training information, sticking to calorie burn and heart rate alone for activity tracking.
Then you have the Fitbits and Apple Watches. Put simply, Apple Watches are still very basic in what they offer to athletes. Fitbits, on the other hand, come with quality concerns. The company is currently facing a lawsuit that alleges some of its trackers caused burns on users. The other big draw that the 955 (and all Garmin trackers) have over Fitbit (and Oura and Whoop) is free data and analysis. It's sad to see subscriptions gobbling up some of the newest and most interesting training features on platforms like Oura, Whoop, and Fitbit. That's something Garmin says you'll never have to worry about. If that remains the case and Garmin continues to refine, expand, and innovate its training tools (as it did with the Forerunner 955), the company will remain atop the fitness totem pole.
The good
Offers the deepest, most versatile training assessments and context of all activity tracking brands, particularly for runners and cyclists
All the data and analysis is free
Specialized training tools tell you when to train, how hard (or not) you've been training, and what each session did to impact specific areas of your fitness
Preloaded maps with onboard navigation (no cellular connection required) for runners and cyclists
Tons of tools and guidance for runners and cyclists to meet their goals over time
The bad
Only about a week of battery with four to five workout days and blood oxygen monitoring enabled for sleep only
Very plain-looking, with only two colors: black and white
The ugly
You need an additional accessory (a $90 chest strap) to access certain advanced running dynamics