The sheer scale and audacity of the $2.2 billion Las Vegas venue point the way to creating experiences that compete with digital
The MSG Sphere comes at a time when the IRL experience desperately needs an upgrade. Audiences seem increasingly content to nestle at home in the glow of their 65" 8K Ultra HD TV screens or their always-on smartphones — or strap on a VR headset. With U2 under the dome, the Sphere seems ready to lure them back outside.
For Madison Square Garden Entertainment, it's a bet-the-company move. The Sphere is a 360-degree, immersive venue that will change what's possible in live entertainment when it opens. It accommodates 17,500 people — 10,000 in seats with haptics that will add motion to the sights and sounds of a performance.
U2 has always been an early adopter: Think of its eager embrace of the iPod, allowing Apple to put its name on a version of the music player and use "Vertigo" in a commercial. The Edge called the band's upcoming Sphere mini-residency a "once-in-a-generation opportunity" to paint his guitar on "a canvas of an unparalleled scale and image resolution." U2's sound and vision will envelop the Sphere's LED-covered walls inside and outside the venue. Pinpoint sound promises to give the audience a headphone-like experience in their seats. Achtung Baby, indeed!
Every inch of the Sphere bristles with an impressive array of technology, including the 160,000-square foot LED display plane inside the venue, which promises 16K by 16K resolution and 170 million pixels. (That's about 82 times a 1080p display, if you're counting.) 
But it's not tech for tech's sake. The Sphere celebrates creativity and humanity by demonstrating how we can leverage technology to extend shared live experiences into entirely new realms. New worlds that don't replace old ones. Rather, new worlds that give artists entirely new palettes on which to paint, to explore the bounds of their creativity, and give audiences entirely new ways to experience that creativity. 
Ed Lantz, CEO of dome designers Vortex Immersion Media, is perhaps the single most knowledgeable expert on immersive experiences, and even he's impressed. "It is sure to be a mind-blowing experience and will likely establish the digital dome format as the next big thing in out-of-home immersive arts and entertainment," he told me. "The MSG Sphere is pushing both tech and venue design far beyond current state of the art at a scale that few would have imagined."
Immersive dome experiences have been in our collective lexicon for decades, of course: Friday nights with Pink Floyd at your local planetarium, flying high above the ground in Imax theaters, dancing to DJ sets in Heineken domes at a local music festival, entertaining in downtown LA's Wisdome complex. Lantz and Vortex have helped build mesmerizing dome experiences for decades, including the smash coast-to-coast dome tour Mesmerica.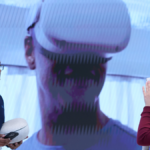 But domes, as a transformational new canvas of creativity for artists and form of experiential entertainment for audiences, have been under the radar for far too long. Not anymore. MSG Sphere shines a Vegas megawatt spotlight on the field, and once they see what U2 does with it, I bet they'll be hungry for more.
IRL still matters in a world that is increasingly digital, virtual, heads-down, insular, isolating and artificial. In fact, live experiences arguably matter even more now. We humans crave physical contact and engagement. And it is those shared, selfie-worthy experiences that are lasting and memorable. MSG Sphere showcases and celebrates this kind of communal storytelling on the most audacious community stage ever developed. There's no place like dome.
For those of you interested in learning more, visit Peter's firm Creative Media at creativemedia.biz and follow him on Twitter @pcsathy.