Ukraine's Digital Ministry has said it will ask Steam, Microsoft, and Sony to remove Atomic Heart from their gaming platforms in Ukraine, and possibly elsewhere, pointing to its retro-Communist aesthetic and reported "Russian roots."
As reported by the Ukrainian tech news/job site Dev.ua (Google translation), Ukraine's Ministry of Digital Transformation (which also provided a statement in English to PCGamesN) writes that Atomic Heart "has Russian roots and romanticizes communist ideology and the Soviet Union." The Ministry cites the game's "toxicity," "potential data collection of users," and use of funds from the game "to conduct a war against Ukraine." The statement asks for an outright ban on the game in Ukraine but calls on other countries to consider "limiting distribution" of the game.
The Ministry also cites "media reports" regarding development funds coming from Russian enterprises and banks under sanction and "systematically important for the Russian government" (according to Google translation).
"We would also like to emphasize for the Western audience that the developers of the game did not come out with a public statement condemning the Putin regime" and the Russian invasion of Ukraine, Deputy Minister Oleksandr Bornyakov said in the statement.
Russia's invasion of Ukraine all but ended the international game industry's presence in that country. In March 2022, every major console abandoned the country, and major developers halted operations and sales, following direct appeals by Ukrainian authorities. Atomic Heart is currently for sale on the Xbox, PlayStation, and Steam (PC) marketplaces.
There's a lot to unpack, and some of it involves entities that are inherently difficult to pry into. Here's what has been reported so far and some insight into the game and its themes.
How Russian is Atomic Heart's developer, really?
At a minimum, Atomic Heart is not entirely distanced from Russia or inactive in its highly state-influenced economy. The game is available in Russia exclusively through VK Play, an arm of the VK Group, which is run by a Vladimir Putin ally and son of a former prime minister. VK Group and VKontakte, the most popular social network in Russia, are majority owned by the media arm of energy giant Gazprom, which is majority-owned by the Russian state. Mundfish's CEO once worked as a creative director for Mail.ru, VK's original entity.
The developer, Mundfish, cites Cyprus as its international headquarters but has previously shown off its Russia-based offices in a video tour. AIN.capital, a site focused on Central and Eastern European tech news, cited Mundfish's Russian store website privacy policy in January as disclosing that user data could be transferred to Russian state authorities, including the tax office and FSB, Russia's modern state security agency. AIN.capital also cites a legal address in Russia in the policy. Mundfish denied collecting data in a response to GamesRadar, stating that its privacy statement was "outdated and wrong, and should have been removed years ago." The Russian store has seemingly been removed from Mundfish's site.
An extravagant promotional party for the game was held in November 2022 for Russian press, according to Game World Observer and on-the-scene tweets. Soviet-style banners and signs read "Glory to Soviet engineers" and "Comrade, join the society of the future!" Gaming press events are not known for their subtlety or strict fidelity to a game's full narrative—in this case, Atomic Heart's over-the-top echo of mid-century Soviet propaganda is on display, not the team's beliefs or heritage. Yet holding this lavish event for a Russian audience, with Soviet-era stylings, while the country is engaged in a bloody war with Ukraine, implies a certain willingness to engage with status-quo Russia.
Mundfish's investors include Tencent, the Chinese gaming giant, and GEM Capital. GEM Capital's founder, Anatoliy Paliy, formerly served as first deputy general director for a Gazprom division, and GEM is actively involved in the Russian energy market. Like Mundfish, GEM claimed to games journalist Kirk McKeand in January that it was now based in Cyprus and had no Russian investments. You can read more about the hard-to-prove but quite plausible web of connections between GEM, Gazprom, and Russia's invasion of Ukraine at PC Gamer's detailed explainer.
Why won't they just say they support Ukraine?
For its part, Mundfish has said very little. In a series of tweets from January, the developer's account wrote that it had "a global team" and was "undeniably a pro-peace organization against violence against people" but did not "comment on politics or religion." It's worth noting that, if Mundfish does have employees and offices in Russia, it is far from free to comment openly about its opposition to the Ukrainian war or to decry investment in Russia or the Russian State without real and serious concerns about harm to its people inside the country, or even outside.
Guys, we have noted the questions surrounding where we, at Mundfish, stand. We want to assure you that Mundfish is a developer and studio with a global team focused on an innovative game and is undeniably a pro-peace organization against violence against people.

— @Mundfish #AtomicHeart (@mundfish) January 16, 2023
At least one person involved with Atomic Heart has spoken up about the extremely messy matter that is modern, large-studio, international games development taking place within the context of war: Australian-based composer Mick Gordon. The veteran of 2016's Doom, the modern Wolfenstein series, and other first-person shooters announced earlier this month that his fee from working on Atomic Heart will go to the Australian Red Cross' Ukraine Crisis Appeal. Gordon expanded on his tweeted announcement in a statement to Eurogamer:
"I believe it is important to separate the actions of a government from the actions of individual citizens. … I deeply respect the artistry and creativity that went into the development of Atomic Heart, and I am grateful for the opportunity to work with the Mundfish team. I also have a strong ethical and moral obligation to help those in need and stand up for what I believe is right. I hope that by making my donation public, I can also encourage others to consider making a difference."
Gordon also noted his love for Soviet-era synthesizers, specifically the Aelita.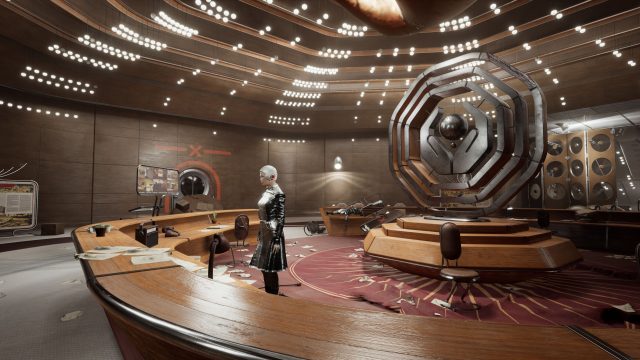 The Soviet setting
Finally, there's the inescapable truth that Atomic Heart's gameplay takes place in an alternate history, where the Soviet Union is, as I put it in my first impressions, "not just ascendant, it is literally floating." The USSR makes the world's best robots, its citizens live in a utopia where those robots do their menial tasks and labor, and even greater things are just about to happen. If you've played the Fallout or BioShock series, you know that a game can lovingly detail a world full of astounding promises, yet take apart that optimism by showing the hypocrisy, the false promises, the ego-driven leaders and actors causing so much pain, and the impact on real people's lives when it all comes apart.
After playing the game's early hours and reading more about its broad plot points (and without necessarily spoiling it entirely for everyone), I'll say that there is, unsurprisingly, more nuance than is mentioned in a call for boycott. The Soviet State in Atomic Heart, and its maniacal leaders, are responsible for the death of untold thousands or millions of citizens at the hands of their own robots. There are plans to foist this death on the rest of the world, rather than win them over with the benefits of collectivist effort. The KGB, for which your protagonist formerly worked, are not the good guys.
In all my reading and experience with both Soviet-era and modern Russian history, portraying Russian leaders as deeply corrupt and murdering one another for power and the state causing the death of citizens by ambition or just utter incompetence is not the path to favor with the country's leaders. These things all happened, of course—just not in the official record.
While it's a minor point, Atomic Heart has been in development since at least 2018. Choosing to base a game in a surreal alternate Soviet wonderland and starting on the long road toward release from that point is not beyond critique. But the game did not arrive out of nowhere in modern times and was started well before the modern, large-scale Ukrainian invasion (if not the start of the recent Ukraine-Russian war itself).
It's ultimately up to each marketplace, and game buyer, to decide if a game made at least partially by Russian citizens, backed by Russians with connections to Russia's state-controlled gas company, and sold in Russia on that gas firm's own platform, deserves time and money. It's not an easy problem, and it's one we're likely to see more of in gaming's complex future.